I've now reached a milestone in my life that everyone dreads, that age when your friends start to pass. I didn't think it would happen this soon. I'm beyond saddened that my first friend to pass from this world into the next was Chris Utley.
I was a very young 25 years of age when I met Chris (I'm now 47), so he and I knew each other for 22 years. I had just been recruited from a job at Miami University to run the Internet Operations team at Cincinnati Bell Telephone as they became an Internet Service Provider with a service offering called "Fuse Internet Access". I was told I needed to have a "Webmaster" to build our web site and I hired Chris. He was the first person I had ever hired and the first person I ever managed (I wouldn't say I led, I was 25). We developed a fast friendship as co-workers, sharing our love of technology, Apple Computer, video games, the Internet, and programming. We also shared a weight problem with which he and I both wrestled. That wasn't what bonded us together in friendship though, that happened one day when our department announced we'd be having a golf outing and I had no idea how to play golf.
Chris was a rather accomplished golfer, having played most of his life and having grown up on a golf course. He immediately offered to teach me to play, and off we went. I bought a set of clubs (which I play with to this day) and Chris set about teaching me a game he loved, and hated, which would tie us together throughout our lives.
Chris and I worked together for about 5 years at Cincinnati Bell Telephone and then ZoomTown.com (a subsidiary of CBT). Chris eventually left ZoomTown.com with a guy named Phil to start a consulting business. That business didn't work out well for them, but it did instill in Chris a desire to be his own boss, something he did throughout the rest of his life (and something I've never had the guts to do).
While at Cincinnati Bell Telephone, Chris started dating the girl next door (seriously) and they eventually got married. I was honored to stand with Chris as his Best Man. Unfortunately, something else Chris and I had in common was that for each of us our first marriages ended in divorce. Another common experience that tied us together.
Over the years, Chris and I went on multiple golf outings to South and North Carolina, vacationed together on Hilton Head Island, and dined with each other's families. Those are some of my fondest memories of Chris. Unfortunately, we drifted apart in the last several years as he took a job where he was commuting a lot to Illinios (he and I were both living in Cincinnati at the time) and which eventually led to his moving permanently to Arizona. I got re-married and had my wonderful son; but that was almost 7 years ago (and another regret that Chris never got to meet him). One of the last things Chris and I did together was invest in writing an iPhone application shortly after Apple opened up the iPhone to third-party applciations in early 2008 (the year I married my wife). We didn't get rich, but we all enjoyed the experience.
Over the interveneing years, Chris and I stayed in touch, updated one another on things we were doing, and referred jobs to one another. Oddly, golf once again became a subject that we discussed in December, 2017. It was also the last thing we talked about, and the first indication that something was not well with my friend. It started when I wished him a Merry Christmas, something I often did each year just to touch base: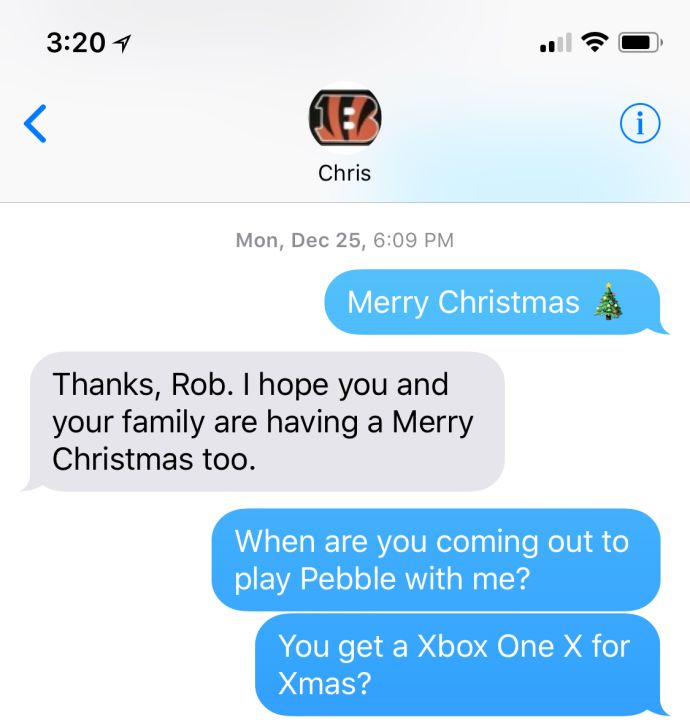 But, that's when it got a little darker and Chris eluded to an issue he was having: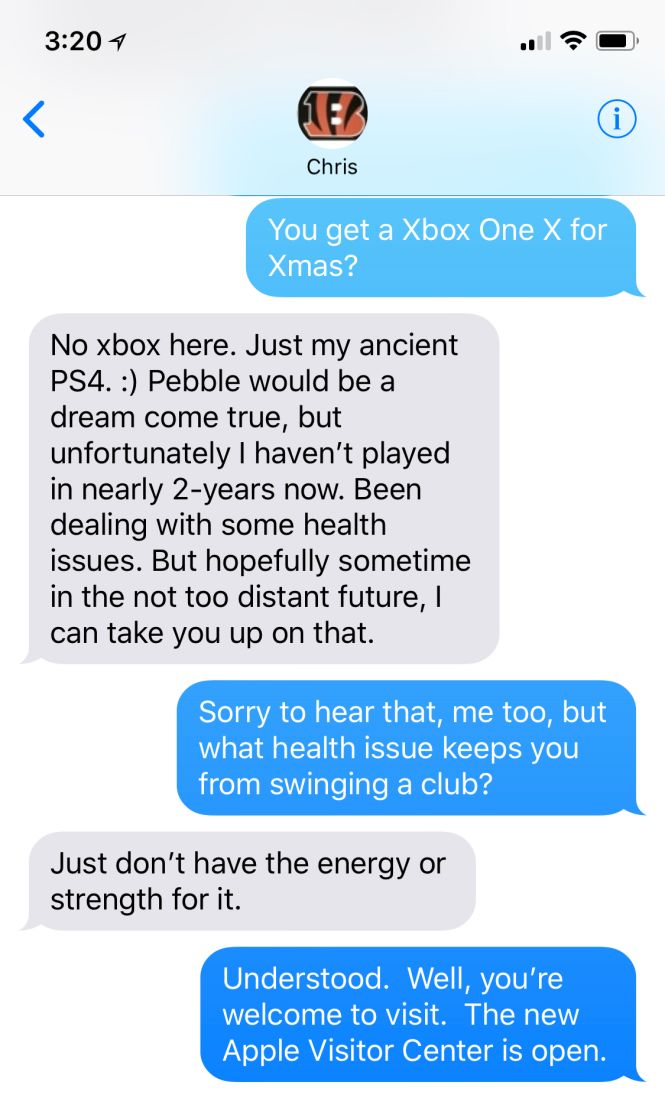 I could sense something wasn't quite right with him. Frankly, I should have picked up the phone and tried talking to him, but that wasn't something we did a lot, I now regret my decision. Fortunately, I did reach back out a day later: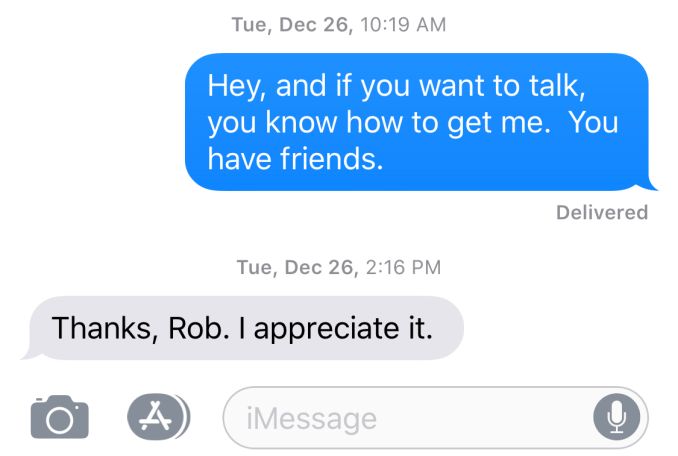 Several weeks later, I was contacted by a mutual friend, Doug, who texted me and asked if I had contact information for Chris. He told me that a client of Chris' was trying to reach him and they could not after several days of trying. Eventually, they contacted local law enforcement and were told that Chris had passed. I had no other information about the situation and I began to try to reach out to Chris' family to get the truth of his situation. Eventually, his mother liked a photo of mine on Instagram and I messaged her about her youngest son, she responded back to me (edited for clarity):
He died of cancer a few weeks ago.
Hard to talk about it Rob. He was so very sick.
It came on so quickly. It's so sad.
Really it's very, very hard.
I was going to e-mail you and rest of his friends,
when I got a grip on my self.
Keep in touch.
I am deeply saddened by the loss of Chris. He was a wonderful human being, who brought light to the people around him. I watched people light up when they were around him, he had such a wonderful sense of humor, and I never met a person who said a cross thing about him. The world is truely worse off for not having Chris in it any longer.
I miss my friend.
Rest in Peace and Godspeed Chris...you will be remembered.
-Rob
I will post updates and additional information here as I receive it from Chris' family:
People who have reached out to me after I posted the article to wish Chris peace:
"Very sad day [...] he was such a great guy, and someone I looked up to back in the Fuse/Zoomtown days", Craig M.
"Sorry to hear about Chris. He was someone I enjoyed working with immensely at Bell", Howard S.
"He was one of the nicest guys I ever met.", Keith H.
"Very sad to hear about Chris' passing. "Mr. Pure" will be missed.", Steve K.
This post was also cross-posted to my LinkedIn page and there are many other warm comments from wonderful people there.